The heroes of our story
Annette van Kampen
In Biodynamic terms Annette is the Earth element. Annette was raised on a mixed farm close to Rotterdam. She made clear to Laurens she never wanted to live the life of a farmer again. Well, that worked out well for her. In her professional career she was the spider in the web of many publishing companies. The ever so stable link between editors, advertising departments and the printers. Focused, honest, fair, totally dependable. The Rock. Today nothing changed. Without Annette there would be total chaos. Everything would be half finished. Everywhere loose ends. She is the cement between the stones. Her main focus is administration, exports, production, customer relations, suppliers and human resources. Too much work for 1 person. Of course, she has the support of Anna (administration), Anastasia (Customer Relations) and Chryssa (Logistics). But most of all, she is Laurens' soulmate and the perfect mother for their son George.
Laurens M. Hartman – Karanika
Laurens would be qualified as the Air element but with strong Fire attributes. He is the thinker and the communicator. Very passionate, hot tempered, creative, the first to take initiative without thinking twice, impulsive. But between Laurens and Annette there is absolute natural balance. The one could not succeed without the other. After his Masters degree in Economic History at the University of Leiden Laurens worked in several positions in publishing, starting as financial reporter of a newspaper to Chief Operation Officer of Amsterdam University Press, an academic publisher. All his publishing years from 1989 to 2004 he could not suppress his love for traditional wines of North France (Loire, Champagne and Bourgogne). And to be more specific, the wines that were produced before the 1990's. The wines he drunk as a student in the '80's. Wines that were terroir driven, that were not manipulated into commercial wines. Where one would have bad years and divine years for wines. Wines with low alcohol, high acidity. Wines with real personality. Unfortunately, these wines were every year harder to find. Partly as result of global warming, but mostly because of the availability of a variety of tools and additives that the winemaker could use to completely manipulate and alter the quality of the wine into wines that he thought (or was told by a travelling consultant) the consumer would appreciate. So the emotions took the upper hand and Laurens decided (without really consulting Annette) to go making these wines himself. The irony is that this quest led him to Greece, the birth country of his mother Katerina Karanika, but also the place least known for low alcohol and high acidity wines. Except Amyntaio. No one knew about Amyntaio just yet. Laurens is the winemaker and the vineyardist. He makes the decisions in the vineyard that define the wines he creates. But he is not alone.
Lia Gatsou
Karanika's sparkling wine adventure got a real professional turn when the Karanika extra Cuvee de Reserve was a recommended wine in Eleven Madison Park (in 2016 best restaurant of the world). Things got serious. Laurens and Annette decided to go all the way. Build a team that specializes in sparkling wines, research the different terroir in Amyntaio (7 villages) for their suitability for sparkling wine, invest in quality equipment and cellar space, increase production. Laurens was in desperate need of an extra winemaker. Of someone who could focus on vinifying the base wines from so many different plots, who could be the brainstorm partner Laurens so much needed. And suddenly on a rainy September, just before the beginning of harvest in 2017, there was this tiny, fragile but very determined oenologist, Lia, banging on our doors. Not taking no for an answer. She herself decided she would take up the challenge to bring order to the creative but chaotic winemaking mind of Laurens. But also order into the incredible complex procedure of the process of vinifying grapes from 100 different plots, from 7 villages, in 30 tanks, and blend them into 5 labels and 100.000 bottles. She started as his shadow. Today she is way more than that. She is faster than his shadow. She brings her own style, ideas and colors to the Karanika wines. The feminine touch if you like. In biodynamic terms she is the Water and Earth element of the team.
A shared vision full of values
All of us at Domaine Karanika, share common values that define who we are, where we are going, and how we will get there. Love for mother earth, respect for humans and animals, passion for what we do.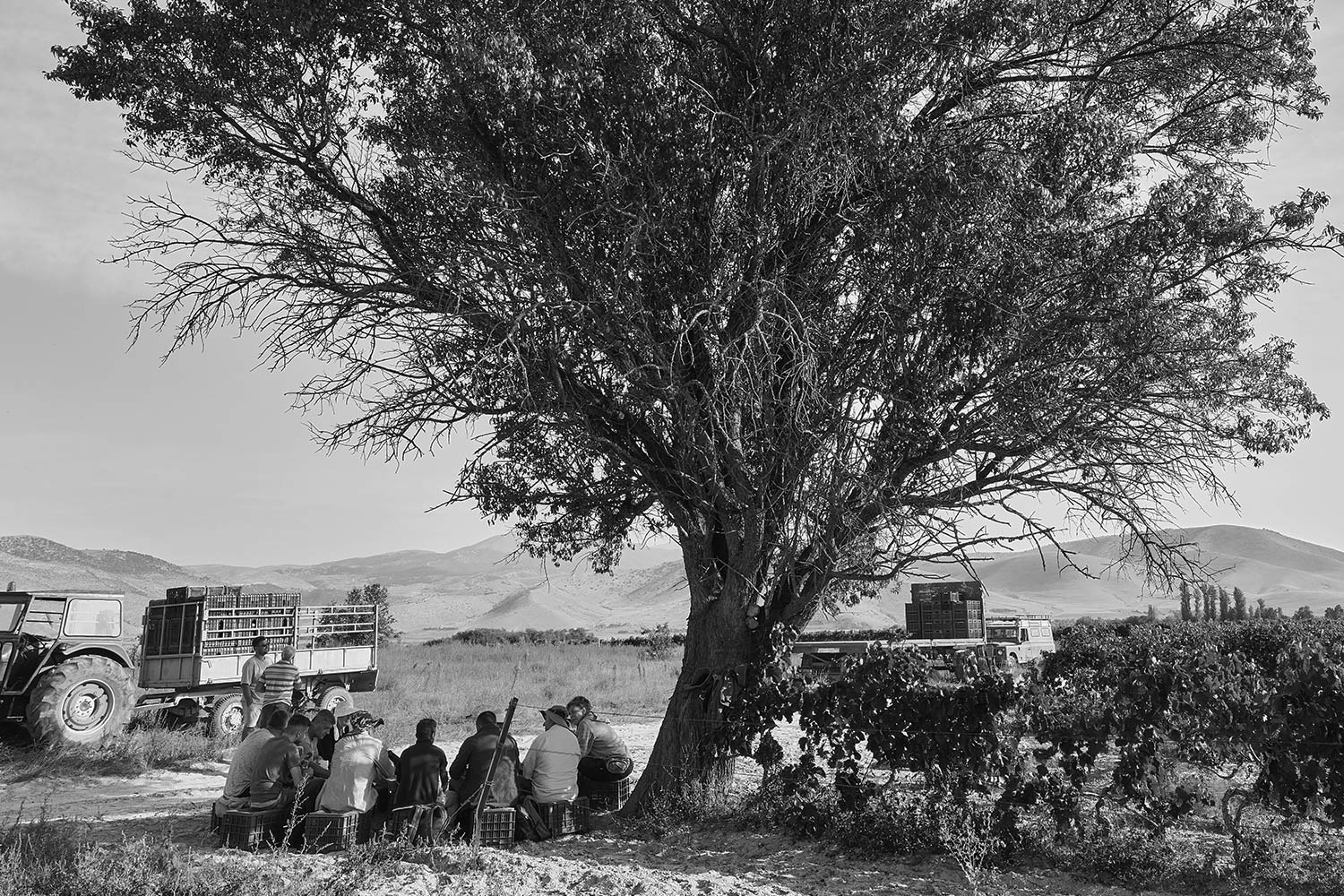 In total harmony with nature
Fanouris
An unexpected hero is one that was a silent voice in Laurens' mind. In his DNA even. It was because of a nagging feeling all these years that something was missing in the vineyards. That there was no real balance in the vineyard. We are talking about Fanouri. The Karanika 5 year old mule. The Joker. When we started working with Fanouri in some of our vineyards we realized that the spirit of an equine is essential to the balance. The Hilling procedure under the vine in Autumn and Dehilling in Spring are not only beneficial for the vineyard (hoofs working the soil in the middle of the row, no exhaust fumes, no weight near the vines, no noise etc etc). The interaction of man and animal is beneficial for everyone involved. Fanouri stands for all the other animals at the farm. And why is Fanouri in Laurens' DNA? Well, Laurens is the 10 th in line of the Hartman family that works with horses. Around 1680 the first Hartman was a (German born) dragoon officer that took his horse to come to the help of the young Dutch Republic. His grandson Lauwrentius Hartman born in 1720, was a saddler and rigger. After him every generation until my grandfather (also Laurens) continued this craft. So yes. Horses are in our DNA.