The art of winemaking
We believe that winemaking is more than a process. It is a ritual, nature has provided us with. We follow this ritual and blend it with the art of wine making. Our natural winemaking methods mean minimal handling of grapes and wine. This includes hand harvesting which minimizes bruising and brings only the finest of fruit to the winery. It also includes avoiding to pump the must, no filtering etc etc. All our wines are fermented with naturally occurring native yeast, which imparts more complexity and character. We make all our sparkling wines with the traditional method. That means that the forming of the mousse, the 'prise de mousse', is done by a second fermentation in the bottle. After a long period of ageing (depending on the wine, from 12 – 72 months), in order to get rid of the lie in the bottle we riddle (turn) every bottle (that has aged more than 24 months) about 90 – 120 times, by hand. Three times a day, during a month.
A ritual process
At the end of the riddling process, we disgorge the bottles one by one on a particular moment when the moon phase is most suitable. We do this in order to secure the finest bubbles. That happens about 6 -8 times every year. The use of clean and concentrated grapes, together with our wine- making practices means that, other than the obvious dose of sulfiltes, our wines are totally free from additives such as not-natural tannins, clarify- ing agents, stabilisers, preservatives, colour enhancers, smootheners, etc.
Organic farming
We handle farming not as a means to maximise production, but as a challenge to bring out the best elements the earth can provide us with. We believe that our role is to nurture an ecological web of biodiversity and help it to reach its full potential while trying to balance the qualitative needs of the Winery with those of Nature. Everything is related to everything else. We aim for our Domaine to be a self-sustaining organism in its own right. Our activities strengthen and balance each other, we keep external inputs, like fertilisers, to a minimum, and we try to put back more to the vineyard than we take out. Karanika's work is not to sustain nature. In contrast, we try to maximize health and vitality of soils and crops, and through this our wines. Our most important tool is compost. We add tiny amounts of biodynamic compost preparations to enliven the compost and speed up humus formation. The Compost in turn increases microbial life and aids harmonisation of plant growth, leading to healthier more robust grapes.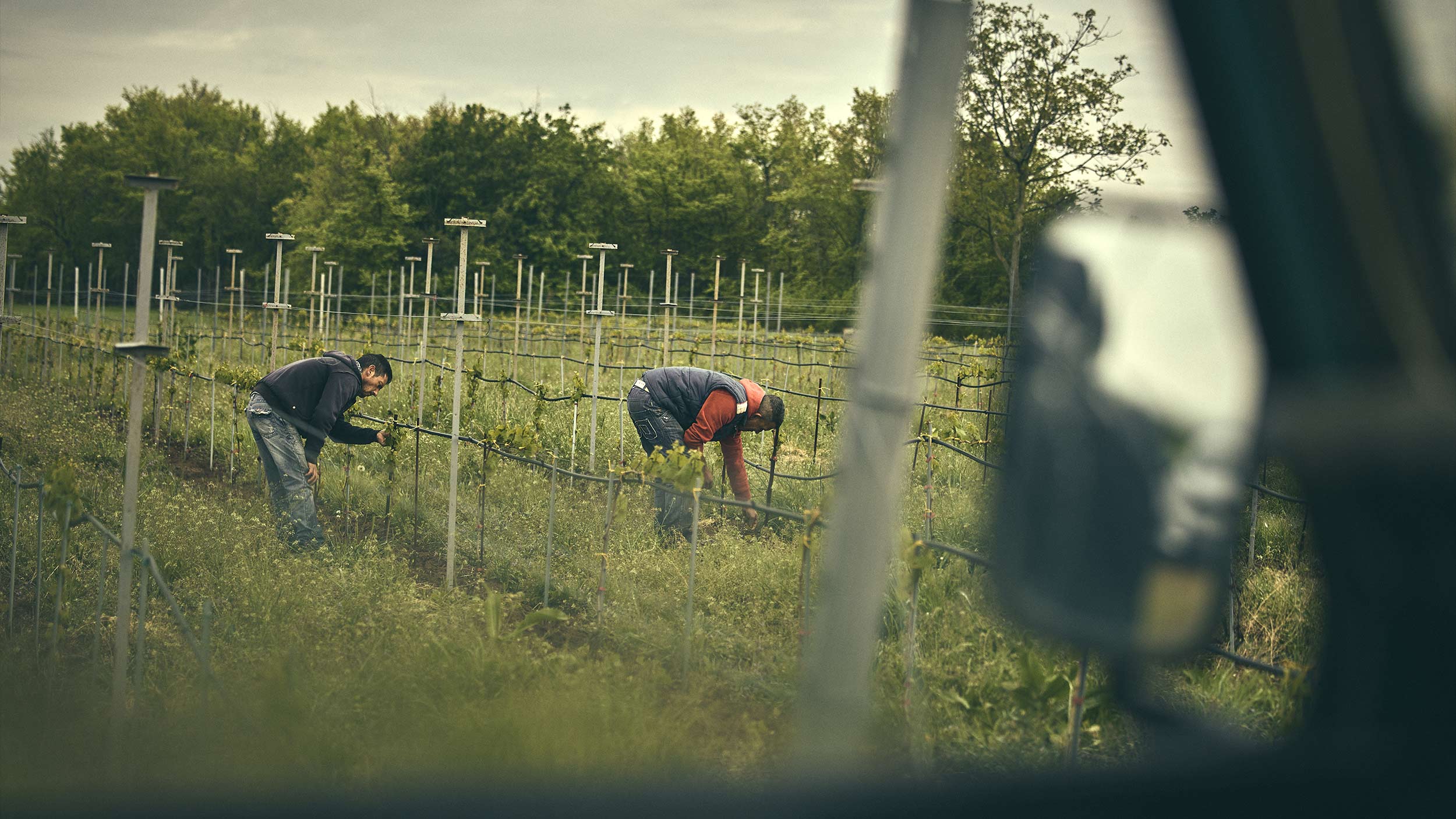 Sustainability
At Domaine Karanika we actively engage in trying to live and work in harmony with nature. The winery is completely thermo-isolated, we use solar energy for warm water and we use the minus zero temperatures of December – March to cold stabilize the base wines. We compost grape skins, horse manure, and hay and weeds that come from our organic farm. We do not water the vineyards nor use chemicals in the vineyard or the winery. There is a bio- dynamic fruit and vegetable garden on the estate and we actively promote eco tourism in the Amyndeon area. Glass, carton and plastic are separated and turned over to the municipality's recycling program. The water used in the winery to clean tanks and equipment is recycled, then biologically cleaned in a self designed system of septic tanks and used to irrigate some vineyards in rare times of heat stress. This is only possible because no chemical cleaning agents are used. Only soda, citric acid and warm water. All are biodegradable. The carbon footprint of the estate is low, considering the energy consumption is very efficient, its harvesting is by hand and the 2 small tractors are used only to spray biodynamic and aetheric oil preparations. Transportation of the grapes for the short distances between the plots and the winery are done mainly by vehicle, but still retains the footprint very much lower than the conventional means of produce and the regular chain of production.
A unique wine comes to life
The old organic vineyards